So, we're trying something new on the LCG blog: an occasional piece which takes a subject and looks at it through my eyes (old person) and through the eyes of an LCG associate (young person). When we started looking at some of these subjects, it occurred to us that some of the concepts had changed radically – often, but not always, for the better – over the course of the last 40 years or so. We thought it might be interesting and fun to see what this clash of decades might produce.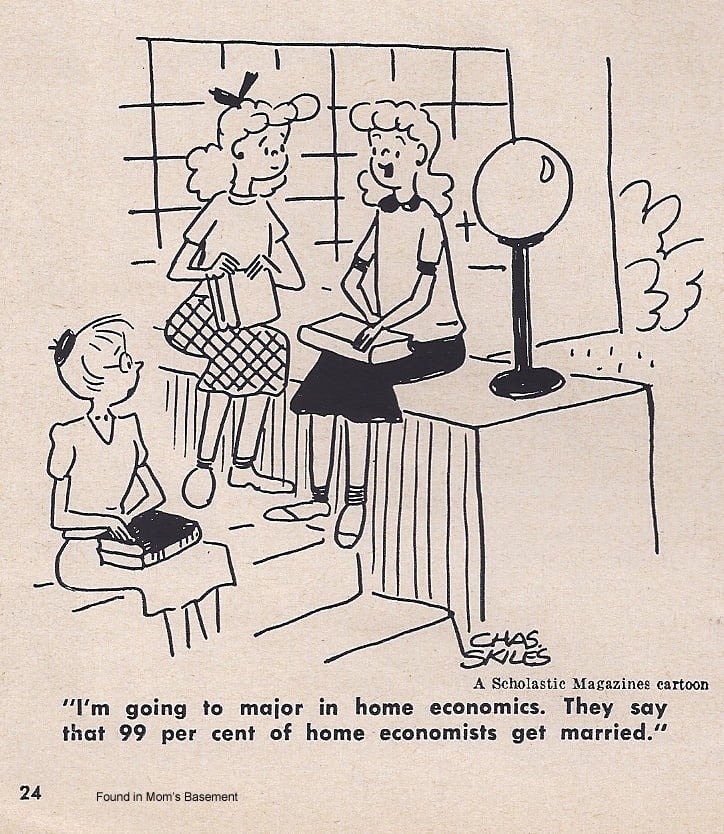 Then (Linda Cronin-Gross)
Today, we're tackling a subject that always used to make me shudder – Home Economics.
If you were a girl who went to school in the US during the 60's and early to mid-70's, you'll know that those two words often struck fear and loathing in your heart. It meant sewing, and maybe cooking, as part of your high school curriculum.
Of course, Home Ec – short for Home Economics – was pretty much only the domain of girls. If you were a boy, you'd probably get some kind of woodworking or "shop" class. Because, you know, girls can't understand things like saws and hammers. And manly men don't need to know how to cook or sew; that's what a wife is for, no?
I pretty much hated Home Ec, which was required in my all-girls high school. I remember making a Pepto Bismol-pink corduroy shift dress with matching beret. Unfortunately, I can still picture those items – ghastly.
Believe me, I would have much preferred making a birdhouse, but that kind of class simply wasn't offered. At that time, it wasn't unusual for this programmatic gender divide to exist.
Of course, it's a good thing to know how to cook and sew, but no one was preparing us to be Vera Wangs or Julia Childs (or would that be Julia's children?). Home Ec's real objective was to prepare us girls for marriage.
I am happy to report that I never made another shift (the design world really should thank me), but did learn how to cook from my mother, whose father was a chef by profession.
But the idea of learning how to run a home, to be able to cook, sew and generally take care of daily chores is good one. Managing a home was quite a job back in the day when there were few modern appliances. When Home Ec was introduced, it was seen as a kind of science; in addition, many women were able to access college specifically because of the Home Ec track.
But as things evolved, both politically and scientifically, Home Ec sort of devolved into a training program for potential brides.
Now (Sonya Landau)
Unlike my counterpart, I never took the dreaded course, but it always seemed to me that the idea had potential. I was lucky enough to grow up with parents that taught me both how to cook and how to build stuff, and was the odd child who balanced tomboy tendencies with a desire to learn sewing and knitting (I treasured my dolls and toy cars equally). Again, I was privileged with the means and the personal drive to pursue learning about my chosen topics.
The part that always interested me about the class was the "Economics" in the title. Looking around at my generation, which graduated college just at the height of the Recession, I know I'm not the only one who would have benefited from financial literacy. As young adults, we are met with a barrage of predatory schemes from banks, credit card companies and others that are well aware we know next to nothing about money.
Our educational system does not place any emphasis on preparing us for adult life when we are released into the real world. That is equally true for those who continue to higher Ed and those who enter the workforce directly. Any tips on money management often come either from personal trial and error or as cautions from family and friends. Not only that, but few of us have even the smallest amount of knowledge about taxes. If we can't make informed decisions about how to spend and save our budgets, we can't expect for the decisions we make to be good ones. How can we make choices when we don't know our options?
It's no surprise that our country is renowned for its percentages of debt – credit card debt, student loan debt, payday loan debt, the list continues. Granted, most of that blame lies on the enormous corporations that regulate loans and influence tax codes, but a lot of this could be avoided if consumers (and students) had a better understanding of the ins and outs of the system.
Nor is it impossible to get this information across in an engaging and empowering way. Our new favorite show, John Oliver's "Last Week Tonight," has tackled issues like income inequality, wealth inequality, payday loans, student debt, and the IRS. He has garnered international attention and support for his well-researched, educational and entertaining programs.
Obviously, I don't envy Linda her Pepto Bismol dress, and I don't advocate a return of the ubiquitous class in the form of housewife training, but I do think that we could all benefit from a thorough education on actual home economic skills. Oh, and learning how to make something more than ramen and toast couldn't hurt either.